Chilo auricilia Dudgeon, [1905]; PED 5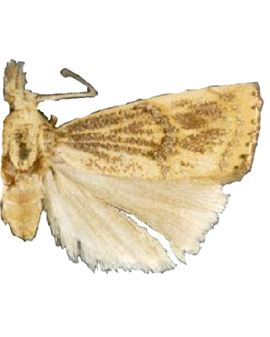 Taxonomy

The holotype of Chilo auricilia, Dudgeon 1905 is from India (Burogah, N. Bihar).

syn. Chilotraea auricilia Kapur, 1950;

syn. Chilo auricilius Bleszynski, 1965, Misspell.

Chilo auricilius Wang & Speidel, 2000 (Chilo) Misspell.

Chilo auricilius [= Chilo infuscatellus]; Fletcher & Gosh, 1920, 387, t. 48-49, f. 1, 4 misapplied.

Description

Wing length: 14mm. There is slight sexual dimorphism. In the male the FW is a pale ochreous brown with paler veins which are slightly raised giving the wings a pleated appearance. There are darker brown specked interneural areas and neural dots on the termen. There is a faint golden curving sub-termenal line and a diffuse golden brown median fascia. The HW is pale with slightly darker veins. The female is similar but less distinctly marked. All members of this genus have large and prominent palpi.

The species seems to have been at times confused with, and referred to as, Chilo zonellus (Swinhoe) and Chilotraea auricilia Kapur. Kapur (1950) gave a revised description of the sp. and the chief diagnostic characteristics of the male and female genitalia. Rao & Nagaraja (1965) give detailed descriptions of all stages of Chilo auricilia, C. polychysa, C. suppressalis and C. partellus.

Distribution & Habitat

Pakistan, Kashmir, Sri Lanka, India (all states), Bangladesh, Nepal, Burma, Thailand, Vietnam, W. Malaysia, Sabah, Sarawak, Indonesia (Java, Sumatra, Sulawesi), PNG, Philippines, China (Guangdong, Guangxi, Hong Kong), Taiwan.

Lowland agricultural areas.

Life History & Pest Status

The internal feeding larvae attack all stages of sugar cane and rice. Kapur (1964) considered its exact identification as a rice stem borer was in doubt although it was undoubtedly a pest of sugar cane in India.

This is the 'gold-fringed rice borer'. A stem-boring pest of a great variety of grasses (Poaceae); Andropogon sorghum, Eleusine coracana, Hemarthria altissima, Miscanthus fusca, Oryza sativa, Sorghum spp., Zea mays, Saccharum officinarum, Saccharum spontaneum, Cymbopogon citratus.

Similar spp.

Charltoniada sp. 1.

Unrelated Look-alikes

no content available.

References

Dudgeon, (1905) J. Bomb. natur. Hist. Soc. 16: 405.

Kapur, A.P. (1950) The identity of some Crambinae associated with sugar-cane in India and certain species related to them (Lepidoptera: Pyralidae). Trans. Roy. ent. Soc. Lond., 101 (11): 389-435, 10pls.

Rao, V.P. & Nagaraja, H. (1965) A Comparative Study of the four species of paddy stem-borers belonging to the Genus Chilotraea and Chilo in Asia (Lepidoptera: Pyralidae: Crambinae, Proc. Indian Acad. Sci., 63: 175-217).

Genitalia

no content available.

DNA Barcode

no content available.

3D Imaging

no content available.

Spare

no content available.
KEY TO TABS
(1) Taxonomy, (2) Description, (3) Distribution & Habitat, (4) Life History & Pest Status, (5) Similar spp., (6) Unrelated Look-alikes, (7) References, (8) Genitalia, (9) DNA Barcode, (10) 3D Imaging, (11) Spare