Nymphicula blandialis Walker, [1859]; PED 3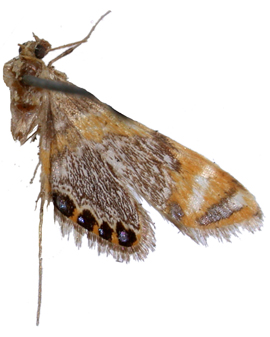 Taxonomy

The holotype of Cataclysta blandialis Walker, 1859c: 488. is from Sri Lanka.

Syn. Nymphicula stipulalis Snellen (1880) [orig. descript.] Snellen [1880] 1880-1892: 78, pl. 5 fig. 11, TS of Nymphicula. The lectotype from Sulawesi (Maros) selected by Munroe et al. 1958: 85, is in Leiden. Syn. n. (Klima, 1937).

Syn. Cataclysta cuneifera Moore, [1885] 1884-7: 300, pl. 179, fig. 14, TL: [Sri Lanka] Ceylon. Comb. n. to Nymphicula (Speidel & Mey, 1999).

Cataclysta junctalis Hampson 1891: 140, pl.155, fig. 24. was treated as syn. until Yoshiasu (1980) showed that Hampson's Japanese blandialis specimens were distinct. Stat. Rev. as a good sp. (Yoshiasu 1980:13-18).

Nymphicula mesorphna (Meyrick, 1894b: 10) is not considered syn. by Agassiz (note on LepIndex Card).

Description

Wing length: 7mm. This species has typical Nymphicula (sensu Yoshiasu, 1980) patterning in dark brown, fulvous and white with leaden patches. Densely speckled brown occupies the centre of both wings, that of the HW separated by a serrate subterminal line from four, spectacular electric blue-centred eyespots, on the wing margin. It shares its general patterning with Nymphicula kinabaluensis Mey and Nymphicula sp. 2 but is larger. Note the white post median patch from the FW costa is different in all three spp.. and N. kinabaluensis has five eyespots. N. saigusai Yoshiasu, 1980: 6-13, TL Japan (Honshu, Fukuoko ] is very similar with four eyespots but differs in its wing venation and the shape of the FW tornal marking.

Distribution & Habitat

Sri Lanka, India (W. Bengal), Sabah, Philippines, Japan. No verified habitat info.

Life History & Pest Status

It is possible that the larva is a terrestrial case-bearer like N. saigusai Yoshiasu which feeds on mosses.

Conway (1971) reports it as a suspected pest of cocoa which appears unlikely. A few similar unnamed spp. are reported from Borneo.

Similar spp.

Nymphicula drusiusalis

Nymphicula kinabaluensis

Nymphicula saigusai

Nymphicula sp. 2, 4 & 7

Unrelated Look-alikes

No content available.

References

Hampson,G.F. (1891) The Lepidoptera Heterocera of the Nilgiri district. Ill. typ. spec. Lepid. Heteroc. coll. B.M., 8. iv + 144 pp., pl. 139-156, Taylor & Francis, London.

Moore, F. ([1885] 1884-7) Lepid. Ceylon 3: 578pp., pl. 144-215. London.

Snellen, P.C.T., (1880) Nieuwe Pyraliden op het eiland Celebes gevonden door Mr. M. C. Piepers. Tijdschr. v. Ent., 23: 198-250.

Snellen, P.C.T. (1880-1892) Lepidoptera. In Veth, P. J., (1880-1892). Midden-Sumatra. 4 (8). 92 pp., 5 pl. Leiden.

Walker, F. (1859c). Pyralides. In; List Spec. Lepid. Ins. Coll. B. M., Cat. Lepid. Heterocera. 17: pp. i-iiv, 255-508.

Yoshiyasu, Y., (1980) A systematic study of the genus Nymphicula Snellen from Japan (Lepidoptera: Pyralidae) Tyo to Ga. Butterflies and Moths 31: 1-28.

Genitalia

No content available.

DNA Barcode

No content available.

3D Imaging

No content available.

Spare

No content available.
KEY TO TABS
(1) Taxonomy, (2) Description, (3) Distribution & Habitat, (4) Life History & Pest Status, (5) Similar spp., (6) Unrelated Look-alikes, (7) References, (8) Genitalia, (9) DNA Barcode, (10) 3D Imaging, (11) Spare