Lepidoplaga flavicinctalis Snellen, [1890]; PED 8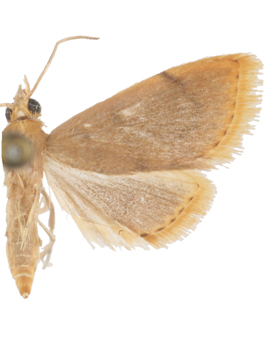 Taxonomy

The male holotype of Crocidophora flavicinctalis Snellen, 1890: 595 is in the NHM. TL Assam [Meghalaya] (Khasia Hills).

syn. Lepidoplaga elongalis Warren, 1896b: 108; syn. n. (Swinhoe 1901: 138)

syn. Lepidoplaga longicorpus Warren, 1896b: 108.; TL India [Meghalaya] Khasias.

syn. Mabra flavofimbriata Moore 1888 [1889]: 208. TL India [Meghalaya] Khasia & Jaintia Hills.

A lectotype is in the NHM. mentioned by Warren, 1896b: 108, syn. n. (Swinhoe 1901: 138)

syn? Crocidophora? flavicillialis Snellen 1890 (:596, Pl. XX, figs. 5 & 5a). TL India (Sikkim). Snellen considered it mainly differed from flavicinctalis by the absence of the underside depression in the discal cell and the length and brightness of its yellow fringes.

Ssp. Pionea chromalis (Caradja, 1925: 366) TL China

Snellen provisionally placed this sp. in Crocidophora Lederer as being closely related to spp. of that genus but he did not have access to any of Lederer's specimens (Snellen 1890, 595-596).

It is the TS of Lepidoplaga Warren 1895: 475. Gen. rev. (Maes 1994.

Description

Wing length: 7mm. The wings are mainly a rich pinkish brown with a violet sheen. The wing margins are ochreous yellow, narrowly on the costa and wing margins broader near the FW apex. The discal cell has a pale patch which marks a depressed area on the paler gray underside. There is an indistinct post basal line. Two thirds along the FW costa is a grey-brown spot marking the start of the looped second brownish line. This continues as a curving diffuse median line across the HW. Both FW & HW have neural spots at the margin. Description after Snellen 1890: 595.

Many morphotypes have very faint patterning and reduced spots. The markings of the type of L. elongalis are practically obsolete. L elongalis has white fore tarsi whereas in L. longicorpus they are yellow. These differences might merit a reassessment of their syn. status.

See also Lepidoplaga rubellalis (Snellen) which is superficially similar in colour and patterning. The smaller, widely distributed (India to Australia & Taiwan), Scopula [Lepidoplaga] machoeralis Walker 1859: 1031 is similar in colouration. It has not been reported from Borneo.

Distribution & Habitat

Sri Lanka, India (Sikkim, Assam, Meghalaya) Thailand, W. Malaysia, Sabah, Indonesia (Java), China. Lowland secondary forest & cultivated areas; 460-520m.

Life History & Pest Status

no content available.

Similar spp.

Lepidoplaga rubellalis
Lepidoplaga machoeralis

Unrelated Look-alike

Agrammia iridalis Guenee 1854

References

Caradja (1925) Euber Chinas Pyraliden, Tortriciden, Tineiden nebst kurze Betrachtungen, zu denen das Studium dieser Fauna Veranlassung gibt Acad. Romana Mem. Sect. Stiint. ser. iii, 3 (7): 257-383, figs.

Hewitson, W.C. & Moore. F. (1879 -1888 [1889]) Descr. new Ind. Lepid. Ins.. Colln. late Mr. W.S.Atkinson, Asiatic Soc. Bengal, Taylor & Francis, London.

Snellen, P. C. T. (1890) XVIII A catalogue of the Pyralidina of Sikkim collected by Henry J. Elwes and the late Otto Möller. Trans ent. Soc Lond: 557-647, 2 pl. (XIX & XX).

Swinhoe, C. (1901d) XX New and little-known moths from India and Australia, Ann. Mag. nat. Hist. (Ser. 7) 8: 123-139.

Warren, W. (1895) LXIV New species of Pyralidae, Thyridiae and Epiplemidae. Ann. Mag. Nat. Hist. Ser. 6, (16) (96): 460-477.

Walker, F. (1859e) Pyralides, In; List Spec. Lepid. Ins. Coll. B. M., Cat. Lepid. Heterocera. Ser. 4, 19: 799-1036.

Warren, W. (1896b) XVI New species of moths from the Khasia Hills, Ann. Mag. Nat. Hist., Ser. 6, (18): 107-119.

Genitalia

no content available.

DNA Barcode

no content available.

3D Imaging

no content available.

Spare

no content available.
KEY TO TABS
(1) Taxonomy, (2) Description, (3) Distribution & Habitat, (4) Life History & Pest Status, (5) Similar spp., (6) Unrelated Look-alikes, (7) References, (8) Genitalia, (9) DNA Barcode, (10) 3D Imaging, (11) Spare