Cirrhochrista fumipalpis Felder & Rogenhöfer, [1875]; PED 15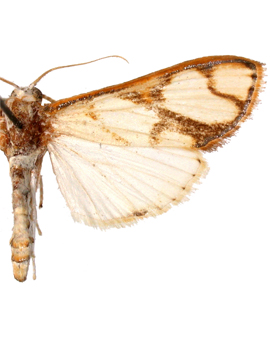 Taxonomy

The female holotype of Cirrhochrista fumipalpis Felder & Rogenhöfer [1875] 1874: 217 Table 135, Pl. 184 fig. 31, is from the Molluccas [Sulawesi]. The exact location of the holotype is not known to us.

Description

Wing length: 15mm. The dark brown markings of the FW are sprinkled with silvery scales. The hindwings are usually pearly white but can be more yellowish especially at the fringe. Where the veins reach the margin there may be neural spots and, or, a few darker patches. In the female the terminal abdominal segments have brown banding and larger lateral darker patches, these are obscured by large silver grey scales. The males have large valvae covered with grey black hair scales. See other spp. in C. fumipalpis group.

Distribution & Habitat

Sri Lanka, India (Sikkim, Assam), Burma, W. Malaysia, Sabah, Indonesia (Sumatra, Java, Sumbawa, Bali, Sulawesi), China (Yunnan, Hong Kong). Lowland to lower montane; <1200m.

Life History & Pest Status

The larvae can damage Ficus spp. fruits.

Similar spp.

C. fumipalpis group spp.

Unrelated Look-alikes

No content available.

References

Felder, C., Felder, R. & Rogenhofer A. F. ([1875] 1874) Reise öste Fregatte Novara um die Erde in den Jarhen 1857, 1858, 1859 (Zool.), 2; 2 Abtheilung. Lepidoptera 2; 9 + 10+ 20 pp , 140 pls. Wien.

Genitalia

No content available.

DNA Barcode

No content available.

3D Imaging

No content available.

Spare

No content available.
KEY TO TABS
(1) Taxonomy, (2) Description, (3) Distribution & Habitat, (4) Life History & Pest Status, (5) Similar spp., (6) Unrelated Look-alikes, (7) References, (8) Genitalia, (9) DNA Barcode, (10) 3D Imaging, (11) Spare